To search beautiful in ugly, to strive for beauty and do not love it, to overcome fears making them the subjects of her work … The creativity of Belarusian artist Tonya Slobodchikova is as controversial as her life path.
Tonya Slobodchikova was not going to be an artist, but by chance graduated from Glebovski College. Decided to become a graphic artist because she doesn't like oil painting, she suddenly entered a monumental department of the Belarusian Academy of Arts. Then, surrounded by canvases and brushes, she suddenly liked acryl, with the help of which she began to roll huge canvases, using a paint roller. Incidentally, as a gift, she made her first book in the technique of collage so that the scissors, glue and paper could become her main working tools.
Tonya says that in her work she seeks purity: "An ideal picture for me is the most laconic sign". But her works, beginning as a "sign", then find themselves covered with layers of paint, objects and textures. "The material guides me – says Tonya. – I like to combine things from different contexts".
Her acrylic paintings are built on the sharp contrasts of bright, provocative, flagrant colors – blue, yellow, red, green. Tonya confronts them by layering them, covers them with scraps of newspapers and magazine pages, makes inscriptions and puts blots. Destroying the canons of beauty, laughing at it and disfiguring it, the artist creates her own beauty, which is needed for her to overcome the "tastelessness" of everyday life: "I can draw very nicely. But I do not want such a beauty. My criterion of beauty is when it is strange, ironic, ambiguous. It is rather negative, "not nice". I do not like pathos".
Her "princesses" are not proportional, nor sexy, not reasonable. Aggressive and cynical ("Lizabeth", "I am angry"), they are extremely honest in their physiology ("My eyes"). Her "Princesses" do not move anyone, but make laugh and amuse. The most important is that a model for such total "mockery" is not a girl from a glossy cover or TV screen but the artist herself. First of all Tonya makes herself the object of irony and ugliness. We can say, only herself. She explores her anger, her physiology, laughs at her fears, which she openly declares as female. (For example, a girl sees herself as a princess in her childhood, and then suddenly finds her husband under a bush, gives birth to a brood of children, receives the Order and then dies. Here is the end of the fairytale! "Madonnushka", in a word).
Tonya is not afraid that she is a woman. The stereotype of a woman who cannot be an artist or resentment at the definition of her creativity as a female are not problems for her. She speaks about her feminine emotionality, about that as an artist she does not think about what is happening around, so she doesn't consider herself an actual artist. "What I'm doing is self-reflection. I am an artist who does not interact with the world in a literal sense. I am a woman and perceive everything primarily intuitively, passing it through my nervous system".
Tonya's works are like diary entries: they tell us about her days, periods of internal feelings and external events of her life. The period of maturity and awareness herself as a woman is associated with attention to the body and its detailed exploration. The stereotypes of functions and purposes of women in society such as an owner, a mistress, a mother Tonya interprets, using recognizable signs, which can perturb an untrained viewer. Here the best help for the artist are glossy magazines, which beauty she completes, interpreting it in a different way (a series of collages "B \ n").
The object-performance "The Dissection of a Woman" has become the apotheosis of revealing female essence. It was created and performed by Tonya together with an artist Mikhail Gulin. From the papier-mache they made a crude moulage of a female body which they dissected accompanying this action with comments; from which they extracted its content. Tonya was engaged in the creation of the woman's content. Indeed, only woman can deny so roughly and simultaneously love a woman. Posters of stars and athletes, dolls and laces, little notes, a cigarette extinguished on a piece of lard, a piece of liver in a saucepan, hair and a mallet, a clyster, rubber gloves – it seemed there is no end of the inner world of a women. Tonya doesn't conceal that she came from herself and from her "little secrets", dissection of which is necessary first of all for herself. "I'm engaged in myself. Art for me is the way to ennoble myself and get rid of my complexes."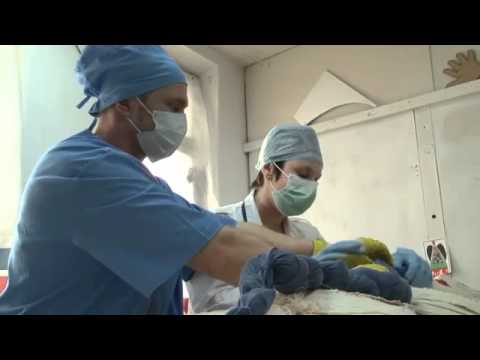 But Tonya's works are remarkable precisely because by irritating viewers, by cheering, by making them puzzled at first they get into the viewers. Because it's the truth about a woman, about her fears and dreams, desires and actions, thoughts and words which are constantly contradict and conflict with each other, destroy and create. This is feminine art precisely because its main object and theme is a woman.
But the woman, no matter how she tries to separate herself from the world and other people, cannot exist without them. These "others" present in Tonya's works: a man as a part of a women's dreams and reality, a child as the woman's foetus and simultaneously as she herself, events of the outside world that somehow penetrate the woman's head and, passing through her emotions, manifest themselves in pictures, signs, words. Toy soldiers with children (the object "The Plates"), rubber wheel, which presses down plush toys and plastic dolls (the object "The Wheel"), a man and a woman made of papier-mache (the joint installation with Mikhail Gulin "Untitled") – these objects are also fears, but fears that reflect what is happening around, that were born as a result of interaction with the others.
An object as a form of art has appeared in Tonya's arsenal by accident. While studying at the Academy, the artist made "Herbarium of Death" – tresses hidden under the glass and surrounded by artificial grass (hair as a sacred symbol will subsequently become one of the key themes in the artist's work). "Herbarium of death" has become a point of reference. A little girl died and her baby "secrets" died with her, so now being placed under the glass they can only be a memory object or a way to overcome fear of the irreversibility of time.
After the "Herbarium of death" the object in its various forms – paper, small things – constantly appears in Tonya's works. Gradually it becomes more and more voluminous and material. "It is important this to be tangible for me".  – says Tonya. The artist has seen the object, especially toys, in a different way after the birth of her daughter. Baby "secrets" and dolls once again have appeared in her adult world. But now all this things are perceived and interpreted differently. Not in a funny or ironic way, but with special awe and sadness. The period of "black spots" has come.
The creativity of the artist has begun with the theme of death. Even in the "Herbarium", weather consciously or not, she has started to kill things by putting them under glass. Then Tonya "behaved like a hooligan", by cognizing herself and others through the acrylic and collage. In some works – "The Wheel", "Plates" – an adult intonation of the artist has appeared. And finally, the theme of death becomes central to her ambitious project "Black spots".
Death for the artist is something that we don't know and probably that's why afraid of: "This is a great mystery, and it is interesting to me." Death not only in the sense of physiological process, but as dissolution, disappearance, forgetting, the transition from one state to another – for example, a girl into a woman. Memory in the "Black spots" becomes crucial: memories are also death, they are put into a "herbarium", they form a still life, they are cut and put together in collages.
Artificial flowers take a special place in the project. "I don't like them, but they have some strange message." Glass boxes and a triangular hole in the cover of the cupboard are filled with flowers, with the help of the flowers Tonya "writes" the sentence "It is here" ("Es ist da"). These flowers become "a bouquet", which helps the artist crown dying. It seems Tonya finally gets rid of certain themes and fears.
The form of still life – dead things – becomes the basis of her "Black spots". On a black background the artist adds, arranges objects, images of persons (a clipping from a magazine or a drawn portrait), which then are entered into a frame of paper flowers. This way Tonya writes her "icon", "Ave Maria", "Absolute Peace". It is her interpretation of the modern Madonna and cosmic void, which are dead in fact, and that's why they are created from the dead textures – flat, ridiculous, laconic. Getting into the palette of these works bright colors even more shade emptiness and finally turn into a "black spot".
As a result, the artist manages to come to a sign, in the shape of which she's always seen her perfect picture. This is not an image of death, but its meaning, a sign of its presence, of which it is not only unreasonable to be afraid – there is nothing to be afraid of at all, because dying haunts us from the very beginning, taking different forms and meanings. It is not fully understandable; it is sometimes difficult to accept and understand it. But suddenly it becomes amusing and funny, if you pronounce it. It becomes a source of life.
"Art helps me work on my fear. When I am afraid of something, I start to repeat it constantly. In the end, I tame myself not to be afraid," – says the artist. Recognition of her weakness results in making Tonya strong, it helps her to win. This recognition, the power which it produces, makes Tonya Slobodchikova not just an actual artist. Her revelations teach not to be afraid to look inside yourself, to see yourself and talk about what you've seen. Speak in order to win. 
About the artist
Slobodchikova Antonina was born and lives in Minsk. She graduated from the Art College named after Glebov, the Belarusian State Academy of Arts. Since 1998 she takes part in international and national exhibitions. Since 2005 she is a member of the Belarusian Union of Artists. In 2009, together with Mikhail Gulin, as a production designer she designed the play "Pippi Longstocking" in the Belarusian Puppet Theater.
 / see more: Portfolio Slobodchikova Antonina
Related posts: